Podcast: Download
Subscribe: Apple Podcasts | Google Podcasts | Spotify | Android | Stitcher | RSS | More
One-third of the world's plant and animal species could be extinct by 2070 if humans don't change course. Over the past five years, the big banks have enabled $2 billion per day – that's $1.4 million per minute – of funding to fossil fuel companies, bringing us ever closer to planetary catastrophe. The message of Earth Day this year is that now is the time to restore our Earth.
---
This week marks the 51st Earth Day on Thursday 22 April 2021. In The Sustainable Hour, we find there is no better week to listen to and focus on a way of living that has allowed Australia's indigenous people to thrive on this planet for at least 100,000 years. So in The Tunnel today, we have invited professor Yin Paradies, who teaches race relations and indigenous studies at Deakin University. He gives us all much food for thought, introducing us to ancient wisdom in the First Nations' approach to life and to each other, lessons and inspiration for us that we – humanity – need more than ever right now as we face face up to the climate and ecological emergency.
In the lead up to Earth Day, this week has also been declared a global Climate Emergency Week by a range of media outlets and scientific journals around the world. You can find links and information about this and the other topics we talked about during the hour in the notes below on this page.
Colin Mockett's Global Outlook has zooming all over the world with lots of positive news today. He starts us off in the United States where the huge climate news this week is President Biden's Virtual Climate Summit which starts tomorrow and goes for two days. Here, leaders from 40 countries will be taking the signs that the time for real action on climate is now. An agreement that the leaders of two of the most powerful countries in the world have signed augers well.
We then zoom to Iceland where young successful women have been voted in to represent their constituents – this continues a trend where countries with the most progressive and realistic responses to the climate emergency are being led by women.
The next positive news is that Apple, one of the biggest companies in the world, has announced ambitious plans that it will invest $200 million to decarbonise its entire supply chain. Finally, yet another grim warning for the world. This time from the World Bank's CEO Kristalina Georgieva about the huge number of people who will have to relocate in just three regions of the world.
We hope you all enjoy listening to our podcasts as much as we enjoy producing them. We wish you a Happy Earth Day, and until next week: Find your way to be part of and to live the climate revolution!
"Think about how those ideals of capitalism and colonialism and various other forms of Western culture flow through you as a person and how can you combat that by understanding more about Aboriginal culture, about Aboriginal ways of being, knowing and doing."
~ Professor Yin Paradies, Race Relations, Deakin University

→ Subscribe to The Sustainable Hour podcast via iTunes or Stitcher



. . . . . . . . . . . . . . . . . . . . . . . .


Acknowledgement
We at The Sustainable Hour would like to pay our respect to the traditional custodians of the land on which we are broadcasting, the Wathaurong People, and pay our respect to their elders, past, present and future.
The traditional owners lived in harmony with the land. They nurtured it and thrived in often harsh conditions for millenia before they were invaded. Their land was then stolen from them – it wasn't ceeded. It is becoming more and more obvious that, if we are to survive the climate emergency we are facing, we have much to learn from their land management practices.
Our battle for climate justice won't be won until our First Nations brothers and sisters have their true justice. When we talk about the future, it means extending our respect to those children not yet born, the generations of the future – remembering the old saying that…
"We do not inherit the Earth from our ancestors. We borrow it from our children."
The decisions currently being made around Australia to ignore the climate emergency are being made by those who won't be around by the time the worst effects hit home. How utterly disgusting, disrespectful and unfair is that?
Indigenous land and sea management guide
More than 100 Indigenous contributors have created the first Indigenous-led guidelines on how to best strengthen and share Indigenous knowledge in land and sea management, funded under the Australian Government's National Environmental Science Program: The 'Our Knowledge Our Way in caring for Country – Best Practice Guidelines from Australian experiences', based on 23 case studies from across Australia, from the Torres Strait to Tasmania. The guidelines and a film showcasing the work can be found at Our Knowledge Our Way.
→ Resilience – 9 September 2020:
What indigenous wisdom can teach us about economics
"Just as Indigenous wisdom is rooted in a myriad of complex and reciprocal interactions with the community, the land and water, the animals and plants, localizing makes visible the threads of interdependence that hold the living world together."
Philippines: Sulagad
"Communities are now consciously working for the restoration of the ecological balance by strengthening the sulagad system. Sulagad is an indigenous system and practice of sustainable and environment friendly way of livelihood and utilization of forest, land and water resources."
→ Cultural Survival – 7 July 2020:
Listening to indigenous worldviews in the fight against Covid-19
→ Cultural Survival – 21 June 2020:
Booklet: Overcoming the Covid-19 pandemic (PDF)
→ Podcast on Spotify:
Watershed Chats: On Being a Beneficial Human & Learning to Listen to the Land with Permaculturist Geoff Lawton


. . . . . . . . . . . . . . . . . . . . . . . .


Earth Day 2021
Earth Day home page: www.earthday.org
Facebook: www.facebook.com/EarthDayNetwork
Twitter: www.twitter.com/EarthDayNetwork
YouTube: www.youtube.com/channel/UCkWeBkq4KGaN7N8PMWgfOLw


. . . . . . . . . . . . . . . . . . . . . . . .


OVERVIEW: It's Earth Week
When seen from space, it's clear how important we are to each other.
The "overview effect" is a common reflection upon returned astronauts that they see the planet as a single, interconnected entity. Astronauts' experience of being in space causes them to see the planet's atmosphere as a fragile blanket that gives us all life. Not just all human life, but all life. It's just such a stark contrast between the literally glowing blue and green and white thing in front of me, and black. You could travel at the speed of light for millions of years, and maybe not get to another place that has such a rich diversity as this right in front of us. That's the perspective that we almost never get here on the ground.
When the first pictures came back of our planet from space, they inspired the modern environmental movement.
That initial short trip to space—first taken by a human exactly 60 years ago—can be seen as a turning point for how we view ourselves as a species that lives on a planet. Also, not a little thing, it helped inspire the realization that we must work together to protect it.
Carl Sagan called it the "Pale Blue Dot." We live on a beautiful ocean world, and the fact that we are able to know of our own planet's beauty is probably the single most amazing fact of humanity. But in the grand scheme of things, our planet is merely "a mote of dust, suspended on a sunbeam". Without it, and without each other, we have nowhere else to turn. Mars is a hellhole, after all.
Since then, remarkable changes to our identity of ourselves as planetary citizens have defined the past few decades. We now have a permanently-occupied space station, which continuously broadcasts high-definition images of our planet from low Earth orbit. We have the United Nations—an institution tasked with planetary-scale governance. We take for granted that we can, at a moment's notice, communicate with someone on the other side of the world. Even still, no human has ever left the immediate vicinity of Earth-moon orbit. We are Earth people. This planet is infinitely valuable to us.
It wasn't always this way, of course. We didn't always have a planetary perspective. (Arguably, we still might not, considering that we're *still* having troubles agreeing on whether or not to slow down the rate of greenhouse gas emissions.) Thinking on timescales longer than a few years and acknowledging that our mundane daily actions directly affect others around the world is just not something our brains are built to handle.
Climate change has the potential to unite humanity in a way that has never happened before. We never had a completely human created atmosphere before in the sense that we are now sort of driving the increased risk for each other and for other species and just the way that we operate as a connected civilization is now modified by how we've modified the weather.
That, to me, is a hopeful takeaway actually because I think that it gives people a chance to walk outside on a 70 degree day in January and say, this is really weird, it feels weird and I don't know what to do about it, and then take the next step to say well, we're all connected here and that means that I matter and that I can do something to help the situation, because I can literally feel now that I'm connected to everyone else through this weird weather that we're all experiencing. The fact that we're all here sharing the same atmosphere sharing the same planet means we all have a role to play.
~ Eric Holthaus, The Phoenix
---
Earth Day Summit
On 22 and 23 April 2021, Joe Biden, president of the United States will host a Global Leaders Climate Summit to discuss the growing urgency of combating the climate crisis. The first day of the summit also coincides with Earth Day, and marks the 5th anniversary of the opening of the Paris Agreement for signature.
The summit will bring together 17 nations that are collectively responsible for 80% of global CO2 emissions and global Gross Domestic Product (GDP). In addition, the Biden administration has invited other nations with strong and innovative action towards climate change, and some of those that are impacted more severely. In total, leaders of 40 different countries have been invited to participate.
The aim of the summit is to address the economics and urgency of climate action. In particular, the benefits of climate action to a nation's economy will be addressed, along with the importance of keeping global warming under 1.5 degrees Celsius.
The summit will be streamed live for public viewing, and is supposed to represent the Biden administration's commitment to concrete climate plans.
Australia's role
"Joe Biden has promised to restore American global leadership on climate change and his Leaders' Summit on Climate, happening later this week, will be the first real test of his resolve. How he handles Australia will be critical. 
Biden and his climate envoy, John Kerry, have said in no uncertain terms that Australia needs to take substantial action to tackle climate change. 
In response, the Australian government has changed its rhetoric but not its policies.
The Morrison Government will go to the summit assuming it can wait out any pressure from the Biden administration, hiding behind complicated but ineffective policy pronouncements and assuring itself that the consequences of US pressure will be minimal.
Whether the Biden administration and the European Union continue to tolerate this inaction, it will have significant consequences, both for the outcome of this summit and for the approach world leaders take to COP26 in Glasgow in November." 
~ Dr Emma Shortis, a Research Fellow at the EU Centre of Excellence at RMIT University.
Build on each other's work
"Climate change is undermining our ability to manage and mitigate it. There is a real risk that the disasters and chaos we're seeing – fires, floods, cyclones, even the emergence of coronavirus – will push the ability to manage climate change beyond our reach unless we act quickly.   
Unless we dismantle the incentives and injustices that enable climate change and the destruction of our environment, we will also undercut our capacity to manage climate change.  
More than just minimising harm though, we need to regenerate the many landscapes already scarred and depleted of carbon by urban-driven processes, to restore the ecosystems we rely on and the climate we are vulnerable to.  
We now need to resource such efforts properly, learn from them, and build their insights into our institutions. There is a lot of hard, inspiring work happening on this including the RMIT-led Future of Food project and Climate Change Exchange. 
Society does not have time to tackle these problems one fragmented project at a time. We have to build on each other's work, and together we can develop the capabilities we need faster than climate change erodes them."
~ Professor Lauren Rickards, co-leader of the Climate Change Transformations research program and Interim Director of the Urban Futures Enabling Capability Platform at RMIT University.


. . . . . . . . . . . . . . . . . . . . . . . .


→ Al Jazeera – 17 April 2021:
The Campaign Against the Climate: Debunking climate change denial
"The shocking exposure of a multi-million-dollar, 30-year denial campaign that has undermined science and cast doubt on the dangers of climate change."
→ City of New York – 22 April 2021:
New York City Sues ExxonMobil, Shell, BP, and The American Petroleum Institute for Systematically and Intentionally Deceiving New Yorkers
"City argues deceptive trade practices and greenwashing violate City's Consumer Protection Law"
Australia is streaking towards a climate tipping point. A major new report gives us 10 years to fix it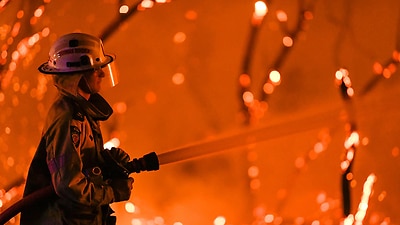 Australia is being urged to drastically scale up emissions reduction efforts
A major report from the Climate Council warns Australia has only ten years to triple its emissions cuts – or suffer devastating environmental impacts.
→ Read more on sbs.com.au
The world's richest 1% accounts for more than twice the combined emissions of the world's poorest 50%
"Just let that sink in for a moment: The emissions gap report released by the United Nations late last year shows just how important it is for the world's wealthiest people to rapidly cut their greenhouse gas emissions to avoid dangerous warming this century."
~ The Climate Council


. . . . . . . . . . . . . . . . . . . . . . . .


The Greenwashing Files: Uncover the truth
How the ads of the world's fossil fuel giants mislead us

By Dipti Patel, ClientEarth

As you may know, greenwashing is rife in advertising. Which is why, today, we're releasing the Greenwashing Files.

We're exposing how the advertising by fossil fuel companies 'greenwashes' their contribution to climate change and misleads the public.

This follows our landmark complaint against BP's greenwashing before the oil major withdrew its clean energy advertising.

Our Climate Accountability lawyer, Johnny White, highlights this stark contrast between publicity and reality:


We're currently witnessing a great deception, where the companies among those most responsible for catastrophically heating the planet are spending millions on advertising campaigns about how their businesses are focused on sustainability.


Alongside this launch, we're once again calling on policymakers to introduce tobacco-style advertising bans and health warnings to curb misinformation.

Thank you for helping us strive for transparency and systemic change.

Dipti Patel,
Supporter Engagement, ClientEarth

→ Read the Greenwashing Files


. . . . . . . . . . . . . . . . . . . . . . . .


Drawdown
Project Drawdown is ramping up its efforts to champion the world's brightest climate solutions, growing exciting programs such as:
Drawdown Learn, offering free climate education like Climate Solutions 101—the world's first-ever solutions-focused video and podcast course.
Drawdown Labs, transforming climate leadership in business, philanthropy, and investment communities with 14 visionary partners.
Drawdown Lift, linking climate solutions to health and human wellbeing worldwide, particularly in emerging economies in Sub-Saharan Africa and Asia.
Drawdown Research, discovering emerging solutions to reduce greenhouse gas emissions and address the climate crisis.


. . . . . . . . . . . . . . . . . . . . . . . .


→ The Conversation – 6 April 2021:
Half of global methane emissions come from aquatic ecosystems – much of this is human-made
→ Washington Post – 5 April 2021:
Carbon dioxide spikes to critical record, halfway to doubling preindustrial levels
"The concentration of the heat-trapping gas topped 420 parts per million, while the planet has warmed more than two degrees."
Climate Emergency Week
Major media organisations sign a statement that 'Journalism should reflect what the science says: the climate emergency is here.'
Sign the Joint Press Statement on the Climate Emergency — Covering Climate Now
If the words and the news aren't out there already, the world will most certainly get to know and to talk about the climate emergency in April when some of the biggest names in news — Reuters, Bloomberg, Agence France-Presse, NBC News, CBS News, PBS, VICE, Noticias Telemundo, Al Jazeera, The Guardian, Asahi Shimbun, Times of India and many local outlets around the world — join forces to create a Climate Emergency Week in media.
The theme of the joint media coverage week is: "Living Through the Climate Emergency", and these are some of the recources that are being provided for the journalists and media outlets:
→ Fact Sheet: Who Says It's A Climate Emergency?
→ Reporting Guide for journalists: Living Through the Climate Emergency
. . .
Joint media coverage week: Living Through the Climate Emergency
"It is journalists' job to serve the public. Too often, they forget that — and both the public and the reputation of journalists suffer.
The public deserves better, much better. Which is why, during Covering Climate Now's April 12 to 22 Joint Coverage Week, partner news outlets will focus on the human aspects of "Living Through The Climate Emergency," running stories both about how people are experiencing the emergency and how all of us can survive it."
→ Retweet on Twitter:
. . .
#ClimateEmergency #ClimateEmergencyDeclaration #StoryChange #ReportersForFuture #ClimateReporting #CoveringClimateNow #ClimateRevolution #ClimateForAll #AllForClimate #JournalistsDeclare
---
BUSINESS AND CLIMATE
BlackRock Inc. raised $4.8 billion from over 100 institutional investors for a new fund that will invest in renewable energy assets.
It's the third renewable power fund started by the asset manager, and the largest to date, nearly three times as big as the previous fund. With an original target of $2.5 billion, the investments reached twice the initial target, indicating growing investor interest in the renewable sector. BlackRock will invest mostly in wind and solar power in Europe, the U.S. and some of Asia Pacific. Additionally, BlackRock, along with Singapore's Temasek Holdings Pte are committing $600 million for a $1 billion fund that will invest in start-ups focused on carbon-cutting technologies
. . .
Global findings show most family businesses are failing to follow through on their sustainability commitments
PwC's Family Business Survey 2021 shows 72% of Australian family businesses do not currently have a sustainability strategy. Globally, 63% of family businesses do not have a sustainability strategy in place.
Family businesses make up more than half the world's GDP. PwC's 10th Global Family Business Survey findings reveal the current thinking – and future outlook – of 2,801 family business leaders across 87 territories. The findings show that it's no longer enough to rely on values and legacy to propel the business forward. Tomorrow's family business requires a new approach for lasting success – one based on accelerated digital transformation, prioritisation of sustainability goals and professional family governance.
"Family businesses need to act now to secure tomorrow's legacy"
~ PwC Australia
"Align profit with purpose and make your work even more meaningful," states PwC's promotional video about the survey, while putting Sustainability on top of the agenda.
"We surveyed 120 key decision-makers in family businesses across Australia to delve deeper into the challenges they face and the opportunities that lie ahead.
Family businesses are more trusted than other institutions and leaders and, in most sectors, they are more resilient. In Australia, we have witnessed firsthand the ability of family businesses to quickly pivot in order to adapt in times of crisis. They have also earned a reputation for prioritising their employees and the communities they serve.
But the world is changing, and family businesses must evolve with it. Now is the time for family businesses to act to ensure their legacy for future generations."'
→ Read more on www.pwc.com
#BusinessForFuture #SustainableBusinessRevolution #SustainableBusiness
"Journalism should reflect what the science says"
Citing grave threat, Scientific American replaces 'climate change' with 'climate emergency'.
Scientific American magazine announced that it would stop using the term "climate change" in articles about man-made global warming and substitute "climate emergency" instead. "Journalism should reflect what science says: the climate emergency is here," Scientific American senior editor Mark Fischetti said in a Monday post about the magazine's decision.
→ Scientific American – 12 April 2021:
We Are Living in a Climate Emergency, and We're Going to Say So
"It's time to use a term that more than 13,000 scientists agree is needed."
MUSICIANS DECLARE
Music Declares Emergency has recently been launched in France, Germany and Canada, and a big list of artists have signed on in support: Tegan & Sara, the Weather Station, Dan Mangan, Caribou, members of Broken Social Scene, Luna Li, Tokyo Police Club, LAL and many more. Internationally, declarers include Radiohead, Billie Eilish, the xx, among others. By signing on, each artist declares the following:
We call on governments and media institutions to tell the truth about the climate and ecological emergency.
We call on governments to act now to reverse biodiversity loss and reach net zero greenhouse gas emissions by no later than 2030.
We recognise that the emergency has arisen from global injustices and will work towards systemic change to protect life on earth.
We acknowledge the environmental impact of music industry practices and commit to taking urgent action.
And as a music community:
Jointly support one another, sharing expertise as a collective industry and community.
Speak up and out about the climate and ecological emergency.
Work towards making our businesses ecologically sustainable and regenerative.
→ Website: www.linktr.ee/MusicDeclaresCanada
→ Instagram: www.instagram.com/musicdeclares_canada
→ Now Toronto – 19 March 2021:
More than 100 musicians declare a climate emergency in Canada
"Music Declares Emergency, a global movement pushing the music industry to address climate change head-on, has landed in Canada."
FRANCE
→ Germany: www.musicdeclares.net/de
#PlaylistsForEarth
Reframe and shake up the climate discussion with the help of music's global reach:
Artists from across the globe – including Anna Calvi, Coldplay, Kelly Lee Owens, alt-J, Tom Misch, Jelani Blackman, Francisca Valenzuela, and Milky Chance – have curated playlists which spell out messages about climate change and the need for collective action.
"We should be talking about the climate crisis now more than ever, and taking action to protect the planet we love. Introducing #PlaylistsForEarth: we're working with some of music's most exciting names to spark conversation in a new way. Tap the hashtag and share a playlist to get involved."
→ See more than 100 posts on www.instagram.com/explore/tags/playlistsforearth
The Sustainable Hour's playlist of 145 youtube-songs
The Weather Station: 'Ignorance'
The Weather Station confronts climate grief on her new album Ignorance
Asking artists and music-related organisations to donate
"EarthPercent is a simple way for the music industry to support the most impactful organisations addressing the climate emergency."

"HOW DOES EARTHPERCENT WORK?
We want to encourage artists and music-related organisations to pledge a small percentage of their income to EarthPercent. This percentage can be collected at source and diverted to EarthPercent where it will be directed to the most impactful organisations dealing with climate change.

Currently, less than 2% of global philanthropic funding is dedicated to addressing climate change, not nearly enough to meet the scale of the global challenge.

Our mission is to give direct and meaningful support to those at the forefront of climate justice while reducing our impact on the planet—as an industry and as part of a global society.
WE CAN AND WILL MAKE THE CHANGE."

→ www.earthpercent.com
→ www.facebook.com/EarthPercent
Energy transition petition
Hepburn Wind on Twitter: "Victorians: Are you ready for an energy transition that:
✔️gives back to communities
✔️democratises energy
✔️enhances resilience
→ Then sign the petition
→ ABC 7:30:
How climate change will cause bigger natural disasters in the future

→ ABC News:
Former ADF official says increasing climate-related weather events could overwhelm defence force

→ Sydney Morning Herald:
Military leaders, security chiefs demand action on climate threat

→ News Corp:
'Disaster alley': New threats Australia faces

→ Channel 7 / AAP:
Former security leaders unite for climate

→ Canberra Times:
Australia must learn the lessons of this pandemic when it comes to climate change

→ Sky News:
Australia needs an 'action plan with top level leadership' to combat climate change
Thinking and acting sustainably is becoming a megatrend, it has only just begun. Are you in, asks the The Banksia Foundation, Clean Up Australia and Eco Voice, who together with Horizon Films Australia have started producing a series of tv episodes that will air across Australia and in many countries around the world, showcasing sustainability innovations, businesses, governments, organisations, not-for-profit, schools, clubs, universities and sustainability champions.
→ More info on www.gofundme.com


. . . . . . . . . . . . . . . . . . . . . . . .


#DontEatFish
"In the past 200 years, oceans have taken on a third of the CO2 produced by human activity, and the vast majority of the extra heat caused by emissions. This comes at a cost to marine and human wellbeing. Increased ocean acidity makes it more difficult for certain organisms, such as corals and shellfish, to build their skeletons and shells. Rising ocean temperature leads to increased ocean stratification, changes in ocean currents, sea-level rise, extreme weather events, and impacts ocean ecosystems."
~ Rita Issa
---
Seaspiracy – some notes from the film
'Seaspiracy' concludes that we should all stop eating fish, otherwise things will go wrong. #DontEatFish is trending, and 'Seaspiracy' has become one of the most seen films on Netflix. The film focuses on a number of very important issues, however some researchers believe its claims are exaggerated.
'Seaspiracy' exposes the global fishing industry as corrupt. Moreover, the film concludes that we should all stop eating fish, because otherwise things will go wrong. The documentary contains no less than 30 allegations about the total destruction of the world's oceans by fishing. They range from the fact that the seas will be almost empty in 2048, if fishing continues as it is now, to the fishing nets being by far the biggest plastic problem in the seas.
Here are some notes and quotes from the film which we received from a listener:
"We are at war with the oceans and if we win this war we will lose it all, because mankind is not able to live on this planet with a dead sea. If current commercial fishing trends continue we will see empty oceans by the year 2048.
The ocean is the biggest carbon sink on the planet. Per acre these coastal marine plants can store up to 20 times more carbon than forests on land. 93% of all the world co2 is stored in the ocean with the help of marine vegetation, algae and coral and losing just 1% of this ecosystem was equivalent to releasing the emissions of 97 million cars.
If you want to address climate change then the first thing you do is to protect the ocean and the solution to that is very simple: leave it alone.
Commercial fishing is essentially wildlife poaching on a mass scale. Trawling wipes out 3.9 billion acres of ocean ecosystems via the commercial fishing practice of trawling with their massive nets.
There is no such thing as a sustainable fishery.
"By continued extraction of fish out of our oceans you are essentially deforesting our ocean by not only removing the fish but the methods of removal (trawling) are devastating to habitat and its even more so there because it's out of sight out of mind."
Where are the big environment groups?
Why aren't they all over this like a rash? It's so obvious. Its just shouting in our faces. It is the fishing industry that is destroying the fish and the rest of the life of the sea. It's so obvious And yet for the most part they are silent, they are not speaking out against it. They are deliberately not engaging with the most important issue of all.
Marine protected areas
Many researchers say that 30% of our oceans should be protected. In reality we are at 5% now at marine protected areas but this is misleading because over 90% of marine protected areas still allow fishing. In reality less than 1% of all of our oceans are being regulated.
We hear a lot from governments about these marine protected areas. One of the UK government ministers was interviewed and asked in this particular pro area what is the additional protection that you are actually giving it:
"Are you going to protect it against industrial fishing?"
"No."
"Are you going to protect it against oil drilling?"
"No."
"So what are you actually protecting it against?"
"Well, we're going to put more restrictions on kayaking."


. . . . . . . . . . . . . . . . . . . . . . . .


Events we have talked about in The Sustainable Hour
Events in Victoria
The following is a collation of Victorian climate change events, activities, seminars, exhibitions, meetings and protests. Most are free, many ask for RSVP (which lets the organising group know how many to expect), some ask for donations to cover expenses, and a few require registration and fees. This calendar is provided as a free service by volunteers of the Victorian Climate Action Network. Information is as accurate as possible, but changes may occur.
Petitions
→ List of petitions where you can add your name

. . . . . . . . . . . . . . . . . . . . . . . .


Live-streaming on pause
The Sustainable Hour is normally streamed live on the Internet every Wednesday from 11am to 12pm (Melbourne time), but due to the corona lockdown, the radio station has been closed.
» To listen to the program on your computer or phone, click here – or go to www.947thepulse.com where you then click on 'Listen Live' on the right.


. . . . . . . . . . . . . . . . . . . . . . . .


Podcast archive
Over 350 hours of sustainable podcasts
Listen to all of The Sustainable Hour radio shows in full length:
→ Archive on climatesafety.info – with additional links
→ Archive on itunes.apple.com – phone friendly
---
Receive our podcast newsletter in your mailbox
We send this newsletter out around eight-ten times a year.
Email address and surname is mandatory – all other fields are optional.
You can unsubscribe at any time.
---
Find The Sustainable Hour on social media
Facebook:
www.facebook.com/TheSustainableHour
→ Overview of all podcast front covers
Twitter:
www.twitter.com/SustainableHour Twitter tag: @SustainableHour
YouTube channel:
www.youtube.com/c/thesustainablehour
Share the news about this podcast in social media
→ Share on www.twitter.com
→ Share on www.facebook.com
---
→ Podcasts and posts on this website about climate emergency
→ Latest news on BBC about climate change

The Sustainable Hour
info@climatesafety.info
Sharing solutions that make the climate safer and our cities more liveable